I love staying healthy and moving my body. I love yoga, taking fitness classes at the gym and just finding ways to stay active. But as a working, single momma, this is tough. An hour at the gym often means not getting home till 7 pm.
And now, it's resolution time. I know a lot of us are resolving to take better care of our bodies, but this year I've resolved to balance my need to workout with being more available for my daughter. My solution is home fitness and YouTube channels.
Finding Time for Fitness
I love going to my local yoga studio, Corazon Yoga. It has a great ambience and great teachers, and I love meeting new yogis. They even have kids' yoga on Saturdays. But when school is in session, I know my life will be too crazy to get to the studio. My life and, more importantly, my daughter need more of my attention.
I still want to keep up with my practice, but between homework, my daughter's commitments and my own commitments, making it to the studio is a luxury. Don't get me wrong, I'd much rather be at the studio. But when the busy life of a momma prevents me from getting there, Yoga with Adriene is a wonderful alternative.
I hope to perfect my practice with Adriene, but if your fitness goals don't include yoga, trust me, YouTube has a channel to fit your needs. Unlike a DVD, a lot of these YouTube channels strive to create the community you might find at the gym or a studio.
Here are my top YouTube fitness channels right now:
1) Yoga with Adriene
January 1st, I started Yoga Camp with Adriene. It's a 30-day program focusing on my mental, spiritual and physical health.  In short, all the goodness yoga always promises. I signed up in late December, and Adriene sent me a welcome letter along and a thirty-day calendar with an affirmation to focus on each day.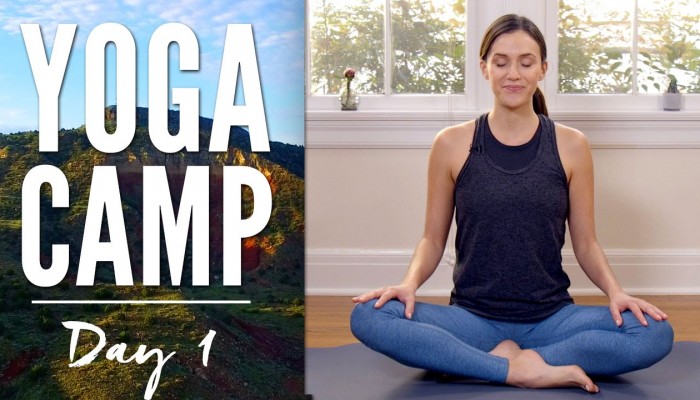 Day 1: I Accept.
Day 2: I Create
Day 3: I embrace
And so on…
Adriene also promises to send us a daily email. Plus, each video has an active comments section where both Adriene and practitioners participate in a discussion with comments of gratitude,  concern, and words of support and encouragement.
Yoga with Adriene gained its popularity after her first 30 Day Yoga Challenge, but she has been around for a while and has amassed a wealth of videos and playlists.  She has playlists on all things concerning yoga, from Yoga Foundations, to Yoga for Weight Loss, to Yoga on the Road.
2) Blogilates
One of the most popular fitness channels on YouTube right now is Blogilates. The ever-energetic Cassey Ho hosts this channel, and has recently made the cover of Health magazine. Her motto is, "Train like a Beast; Look like a Beauty."
Cassey makes videos on eating right and exercising, with a focus on pilates. Blogilates does an amazing job of creating community and even has an accompanying app with an AMAZING Forum where other Blogilates followers will post before and afters, share recipes and inspire each other with their "Fitspirations."  Blogilates also creates 30-day challenges and printables to track your progress and keep you motivated.
3) Body Rock
Want t
o tackle something a little tougher? BodyRock promises to get you a rock-hard body and the intense workouts to go with them. I get exhausted just watching the workouts. While they don't focus as much on building community, their "I am your own personal trainer" approach gives you the support you might need, and makes you feel like someone is in the gym (or living room) with you.
4) BeFit
Another strong choice is BeFit, a smorgasbord of fitness, offering celebrity trainers such as Jillian Michaels, Jane Fonda and Denise Austin. While the "personal" factor is lost, variety is abundant. Choose a trainer, the type of training, even the length of time you want to train. BeFit also has dieting and recipe videos. And, along with 30-day challenges, they also boast a 90-day challenge that promises to get you where you wanna be in 90 days.
Whether you're in search of the elusive bikini body, or just wanna keep moving and stay healthy, YouTube has a channel for you.  You can find all kinds of workouts, from spinning to strength training to Pilates. They each have plenty of videos at a variety of levels and lengths to fit your life.
In 2016, I resolve to make myself more accessible to my little girl while still striving to stay healthy and fit. As with all New Year's resolutions, only persistence will lead to success. But I'm hoping to be energized by the community I find online to help me reach my goals.